Specialised Safe Moves
Moving a safe or fire-proof cabinet requires specialist equipment and highly trained operatives if it is to be completed without incident. Our dedicated team of expert Safe engineers will handle every aspect of the move from the initial planning and risk assessment, to secure reinstatement at the new location.
Your safe may need moving hundreds of miles or just a few feet across the office, but however long or short the journey our expert team will make sure the move is carried out efficiently and in accordance with the very latest Health & Safety regulations. We are of course fully insured to carry out this highly specialised service.
Specialised Equipment
This picture shows how our safe movers team reduces the risks in manual handling, by using one of our remote control stair robots. Although only suitable for some types of stairways, the robot does all the hard work, and can carry your safe all the way to our Tail-lift removals vehicle.
If the stairs and lift aren't suitable, then we use our 26t Lorry Mounted crane.
Its remote controlled crane arm, allows our operator precision movement. In the image below we are lifting a safe from a first floor office, through a window, safely onto our vehicle.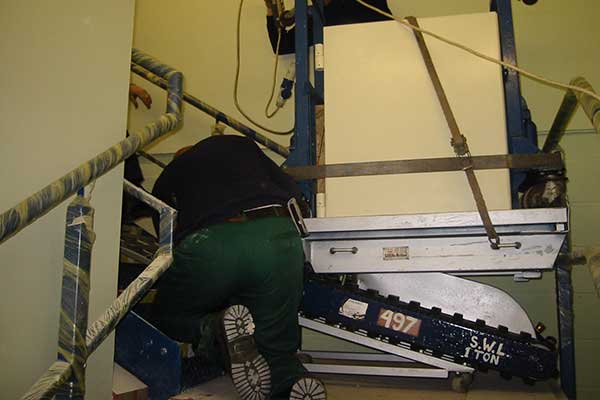 Our Services
At Housleys Removals we provide the following services whether you require a safe to be moved a few miles or a few feet!
Relocation within the same building or transportation and installation to a new site
Bolting/Unbolting of your safe
Environmental disposal of your safe
Storage of your safe until you are ready for installation
We employ dedicated safe engineers that are experts in safe moving.
Site Surveys
Our surveyor will attend site looking for information among the following:
Safe type, manufacturer and model
Does the safe contain asbestos? (many do)
Access and Egress
Will the safe go through the doorways?
Are there are steps, stairs etc?
Is there a lift and what is it weight capacity?
Site Protection e.g covers for tiled or wooden floors
Is the safe bolted? Does it need bolting?
The best time to move the safe – is an after-hours service best suited to create a sterile working area?
All types of Safes
Whatever your requirements our safe movers can usually overcome any obstacle when moving safes
Housleys move safes, fire proof cabinets, data-safes, and communications (comms) cabinets.
If you have any of the above in your office, workplace or home, then give us a call, or send us an email.
Ideally, we will come to your site, and look at the safe, to provide you with a fixed price quotation.
Alternatively, just send us details of the safe and the move requirements, and we will do our best to provide you with preliminary advice!
'Moving safes is often a very skilled process that incorporates many aspects of health and safety legislation, as well as careful planning. So, please be careful in choosing a safe mover.'
If you require Flood Relief Removals & Storage
Call 0114 256 1211 or click the button for an Instant Online Quote.