Specialist Lifting Division
Housleys industrial lifting division don't only move external large items. Internal heavy objects can also often cause issues which we can overcome. Our team of experienced movers have equipment that can solve most lifting problems. Whether it's industrial or domestic, we can provide a solution.
Specialised Equipment
Our fleet of industrial lifting vehicles are equipped with a whole host of equipment that complies with all Health and Safety requirements and our staff are fully trained in manual handling and specialist equipment operation. If something is too heavy to lift, we have the kit to lift it!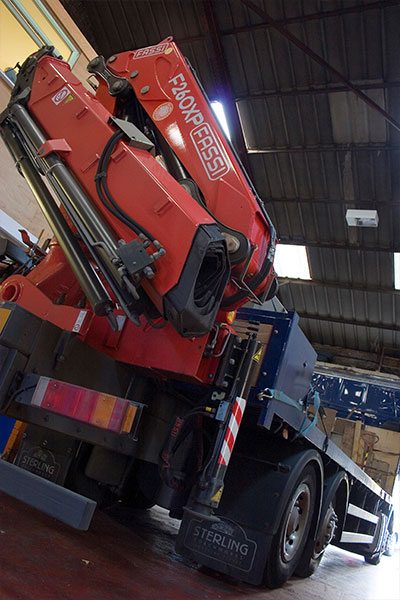 Lorry Mounted Cranes
Housleys operate 28 ton lorry mounted crane capable of lifting 1.5t at 15 metres our experience in industrial lifting extends from multi-lift operations to one off specialist projects, we can provide a FREE site survey, risk assessments, and method statements to comply with the most rigorous health and Safety compliance.
Training Services
Within the group we employ our own Specialist instructor, overseeing all our lifting services. Sean Royle has been with the group for over 15 years and has the unrivalled ability to instruct both clients and staff on safe operation of equipment, First Aid on site, Driver CPC and much more; so if training is required we can provide qualified instruction and certification.
Trained Staff
If you have the lifting operation arranged Housleys can also provide trained staff to supervise and work alongside your own crew. This is often useful when you want to involve your own staff in the operation, but need just a little more specialist experience. We can provide vehicles for factory moves and fork trucks for warehouse moves. If you think its achievable we will help you to achieve it.
If you require Flood Relief Removals & Storage
Call 0114 256 1211 or click the button for an Instant Online Quote.
Housleys Industrial Lifting Services – Sheffield – Chesterfield – Worksop – Bakewell – Hathersage – South Yorkshire.